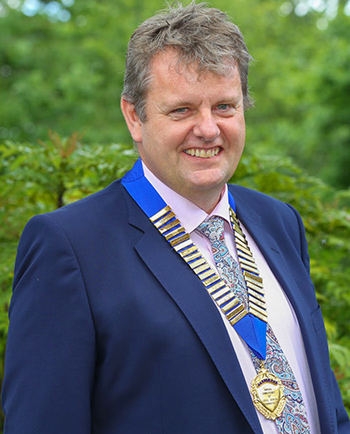 Gearing up for LDC Conference 2018
I have found it a huge honour to have been elected to chair the 67th Annual Conference of Local Dental Committees, and I look forward to welcoming you to the iconic Europa Hotel in Belfast on Thursday 7 and Friday 8 June 2018.
Learning from LDC Conference 2017
A huge load of thanks goes to Alisdair McKendrick, our outgoing Chair, who gave us a fantastic conference in June 2017. There were numerous debated motions, speakers who were relevant and informative, and a new 'Question Time'-style session which has been lauded highly in the feedback we received. I believe that he achieved what he set out to do in inviting speakers who look to the future of the profession and provision of dental care.
If you missed it you can catch up online. The conference was recorded for the first time and edited into easily watched episodes. These can be viewed via the links below, where a link to a copy of the slides and photos from the event are given too.
Please pass this information on to the dentists in your area – not only is it an excellent record of the proceedings but it is hopefully a tool which will help inform those who propose and also debate the motions for next year's event. We all know how daunting it is to step up to the microphone as a first‐time speaker, but we really welcome income from newer members and we are keen to hear a wide range of views as possible.
Conference 2018 is coming…
I hope to continue in Alisdair's vein in 2018, and bring you a conference which will be relevant for all four nations of the United Kingdom and look to the future in the changing political landscapes we live in. Contract Reform and the effect of devolution on dentistry and oral health are high on the challenges we are facing today, as well as the ability for our younger members to carry on the mantle of the dental profession.
Who should attend LDC conference?
When deciding on who to send as delegates please try to take up your full allocation. Should LDC officers not be available to attend, consider sending members of your committee who are performers and have not yet owned a practice.
LDC Conference really would like to see and hear voices from dentists at all stages of their careers, so that we are truly representative. Please consider offering places to younger dentists in your practice, or to your foundation dentists, and encourage them to get more engaged.
Registration
Registration for the event will officially open in the New Year. However in the meantime here is some information for those wishing to get their travel plans underway.
Where and when
Thursday 7 June 2018
Lunch served from 12:30 with Conference commencing at 13:30
Friday 8 June 2018
Conference closes at 12:30 with lunch served until 13:30.
Venue
Europa Hotel
Great Victoria St.
Belfast BT2 7AP
Please see the hotel website for directions
Accommodation arrangements
Please click here for details

See all that Belfast has to offer! www.visitbelfast.com

Further details about the event will be circulated to all LDC Secretaries in January, and of course added to this site. But in the meantime please contact Fiona Feltham, Events Manager at the BDA on 020 7563 6876 or This email address is being protected from spambots. You need JavaScript enabled to view it. with any queries.

I look forward to seeing you there!


Joe Hendron,
LDC Conference Chair 2018

---
Watch our LDC Conference trailer here!

---
Conference photographs:
For any event queries please contact Fiona Feltham (Events Manager on behalf of the Annual Conference of LDCs) at
This email address is being protected from spambots. You need JavaScript enabled to view it.
or telephone 0207 563 4590.